Managing Transitions Mindfully
Some months ago, I ran into a neighbor and we stopped to chat. I asked about her daughter who would soon be off to college, noting what an exciting time it must be for her. Then, moments later, my dear neighbor began to cry. Through unexpected tears, she told me just how much she was going to miss her beloved daughter.
The truth of change is never more forceful than during life's inevitable transitions. Whether they're welcome or not, transitions hurl us into an uncertain future often while we're still longing for the security of the past.
Some of life's major changes happen with metronomic predictability. We leave for college. Land our first job. Maybe we get married and then have children. Of course, life can be wildly unpredictable and some changes are as unwanted as food poisoning. We lose our job, a loved one dies or we become ill. Transitions also can arrive like the tide, slowly creeping up on us until one day we realize that our career or marriage no longer fulfills us. We need to make a bold change.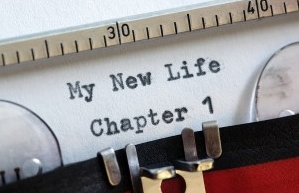 All of it brings uncertainty that's roiling with a gamut of uncomfortable feelings, thoughts and physical sensations. Even if a change is expected and welcome, we can still be beset with anxiety, self-doubt and fear.
I experienced all of these things – as have plenty of other women I'm assume- when navigating pregnancy, birth and eventual motherhood. My daughter is now 16. But I remember the transition to motherhood as if…as they say…it was yesterday.
That's the thing about transitions. They're landmarks in our lives and as such we deserve to be present for them, to experience them fully and to become wiser for having weathered them.
Being mindful in the midst of transitions can help us move through them with more clarity, insight and even kindness. While we think of mindfulness as a practice, it's also a worldview replete with attitudes that can help us shoulder life's vicissitudes. One hallmark of mindfulness that's particularly helpful during the uncertainty of change is curiosity.
Author Elizabeth Gilbert once described curiosity as a gentle, forgiving friend who taps you on the shoulder lightly and invites you to turn your head a quarter of an inch to look at something more closely.
Why would we want to look more closely at one of life's thorny transitions?
Because while we can't make queasy feelings about change go away, we can work with them – not only so that they become less painful, but also so that we can learn and grow from them. Rather than become subsumed or immobilized by the fear of change, curiosity encourages us to stay open to the feelings, thoughts and sensations that arise and allow understanding to unfold.
Through the lens of curiosity anxiety and fear become pliable. We can, for example, become curious about how it feels in our body when fear arises. We can notice the storylines and images that accompany it. We can observe how the phenomena of fear moves through us and – like everything thing else in life – eventually changes.
None of this will make the discomfort of change go away. Mindfulness is not a magic wand. But if we bring our full, loving attention to the moments our discomfort arises, we'll discover that our fear, or whatever else we might be feeling, isn't monolithic. Depending upon the circumstances, we might begin to think that something good can come from an unwanted change. By relying on the friend of curiosity, we might also learn where the next stone on the path of change will lead us.
Lately, I find myself thinking self-referentially about my neighbor. I wonder how I'll feel when the predictable transition of my own daughter leaving home for college arrives. I don't know if my Mom felt depressed or gleeful when my sister and I left the house for good. If she were still alive, I would ask her how she felt and how she managed that traverse. I do know that unburdened by the responsibility of hands-on parenting, she began a career as an art teacher and that her love of art sustained her well into her 80s.
That's another thing about transitions. While they force us to let go of the familiar, they often compel us to create something entirely and, hopefully, wonderfully new.
This blog post originally appeared on eMindful.com
On My Mind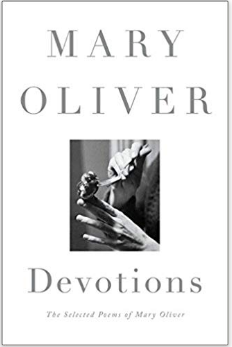 I highly recommend keeping a copy of Mary Oliver's book Devotions, a collection of the late poet's work, on your bedside table. Oliver, one of the most well-known and adored poets in America, never fails to transport me from the routine of my day. Her accessibility as well as her ability to find the sacred in nature never made Oliver a darling of critics. But throughout her work, she reminds us of something essential: The importance of attention. Often, it's when reading one of Oliver's poems that I'm reminded of how much I miss when I don't pay attention to nature's subtle gifts or even the gift of my own life. Oliver wrote: "Attention is the beginning of devotion."
Highly Entertaining
In the age of Amazon Prime – where everything from dried figs to Converse sneakers – can be instantly delivered to your doorstep – it's easy to forget that some things take time, attention and enormous skill to create. Click on the link below to watch a video on how master metalsmith Seth Gould spent two years making an intricate lockbox. See if you can borrow some of Gould's attention to detail the next time you create something – whether it's a tossed salad, a piece of art or a hand-written letter. https://uncrate.com/video/forged-and-filed/
Upcoming Classes
My next UCLA MAPs I Mindful Awareness Practices class begins Thursday, Sept. 12th from 7 to 9 p.m. in Santa Monica. The six-week series, which ends Oct. 17th, is a great way to begin a mindfulness practice or renew one after a long, lazy summer. I'd love to see you there!
For more information and to register go to: https://kellybarron.com/classes/
To read previous newsletters go to: https://kellybarron.com/blog/